In my
Art History 2023-2024
blog post, I decided
September
would be
Piet Mondrian
. Here are some resources and my planning notes:
Piet Mondrian
1872 - 1944

also
Mondrian Memory Game (PDF)
back these cards with construction paper so you can't see through them
activities from The Studio lesson plans:
Week 1 Project, p.19
Week 2 Project, p.20
Week 3 Project, p.21
Week 4 Project, p.22
Language, p.34 (Anagram)
Math, p.39 (Golden Ratio)
Mondrian Abstract Art Project
with construction paper and black glue lines
Mondrian Art Template (PDF)
Who Is Piet Mondrian
Tate.org
includes image of The Tree A (1913)

Encyclopedia of Artists

volume 4, pp.32-33

Discovering Great Artists: Hands-On Art for Children in the Styles of the Great Masters

by MaryAnn Kohl and Kim Solga
p.61 - "Straight Line Design" activity
available online as a FREE PDF from Bright Ring Publishing

Using Art to Create Art: Creative Activities Using Masterpieces

by Wendy Libby
p.141 - art movement (Abstract)
p.142 - "Painting" activity
p.143 - sample piece of art, Composition (1929)
p.144 - mini biography
p.145 - "Picture" activity

I decided to join Lotus Stewart's full Art History Kids website (The Studio) and get access to her past lesson plans. I think it will really help me this year to have so much already done for me. Piet Mondrian is in the Archives.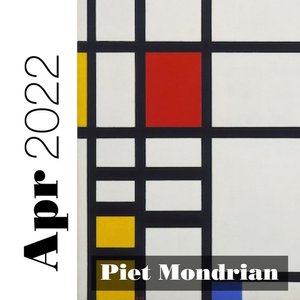 APRIL 2022: PIET MONDRIAN
---
week of Sep 4:
week of Sep 11:
week of Sep 18:
week of Sep 25:
I keep finding quotes from Mondrian that I like and I can't remember where they were. So here is a list:
This post contains affiliate links to materials I truly use for homeschooling. Qualifying purchases provide me with revenue. Thank you for your support!