Our Specials schedule this year is
Mon - Nature Study & Form Drawing

Tue - Farm Day

Wed - Handwork & Philosophy, Science Club

Thu - Art History & Structured Word Inquiry

Fri - Forest School

In my Art History 2022-2023 blog post, I decided November would be Mary Blair. Here are some resources and my planning notes:
Mary Blair
1911 - 1978

also

Walt Disney's Cinderella (Walt Disney's Classic Fairytale)

retold by Cynthia Rylant
illustrated by Mary Blair

Walt Disney's Alice in Wonderland (Walt Disney's Classic Fairytale)

retold by Jon Scieszka
illustrated by Mary Blair

Walt Disney's Peter Pan (Walt Disney's Classic Fairytale)

retold by Dave Barry and Ridley Pearson
illustrated by Mary Blair

I Can Fly

by Ruth Krauss
illustrated by Mary Blair

The Up and Down Book

by Mary Blair

Grand Canyon

by Jason Chin

MAGIC, COLOR, FLAIR: The World of Mary Blair – Photo Tour!

I decided to join Lotus Stewart's full Art History Kids website (The Studio) and get access to her past lesson plans. I think it will really help me this year to have so much already done for me. Mary Blair is in the Archives.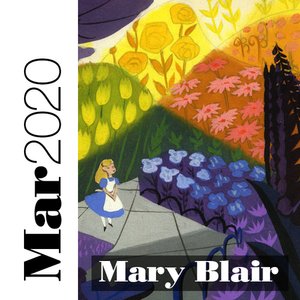 MARCH 2020: MARY BLAIR AND THE MAGIC OF COLOR
---
week of Oct 31:

begin reading Alice in Wonderland, illustrated by Lisbeth Zwerger
do NOT show any of the illustrations in the book
encourage students to form their own mental pictures


Mary Blair's Unique Flair: The Girl Who Became One of the Disney Legends
by Amy Novesky


Week One PDF

p.2: quote, picture of Mary Blair

p.6: Triple Elephants

p.8: Road to Market

p.3: concept art for It's a Small World

p.10: illustration for "The Golden Book of Little Verses," 1953

pp.7 & 9: concept art for Cinderella

pp.4 & 12: concept art for Peter Pan

(we waited on the concept art for Alice in Wonderland)

p.16: Week One project idea - Play with shapes and colors
using repetition in art / creating architectural concept art

we did this with cut paper collage (like the illustrations in the book)

supplies needed: wide variety of scrapbooking papers of different colors and textures, scissors, glue stick, card stock for background

week of Nov 7:
Mon - read Chapter 1: Peter Breaks Through of the original Peter Pan by J.M. Barrie (1911)


Thu - read Walt Disney's Peter Pan illustrated with concept art by Mary Blair

Week Two PDF

p.6: Elements of Art - Space, Contrast, Pattern, Form, Color, Texture

p.7: Art Analysis - Small World Concept

p.8: Art Analysis - Alice Concept

p.10: Art Analysis - Cinderella Concept

p.12: Week Two project idea - Choose a fairy tale or a story to remake in your own style

we did this with colored pencils

week of Nov 28:

NOTE: We did not do the last two of Lotus's project ideas, but I really appreciated having them. I was especially drawn to the Grand Canyon mural, but we needed to start working on our Class Play for December. Because Mary Blair's work was all about bringing stories to life visually (costume and set choices and color stories), I think the children did find studying her to be inspirational as we got ready to design our Aesop's Fables & Puppetry show. The extra unused ideas were
p.3: Week Four project idea - Explore the magic of a faraway land in a piece of art

p.4: Week Five project idea - Tile mural composition
This post contains affiliate links to materials I truly use for homeschooling. Qualifying purchases provide me with revenue. Thank you for your support!